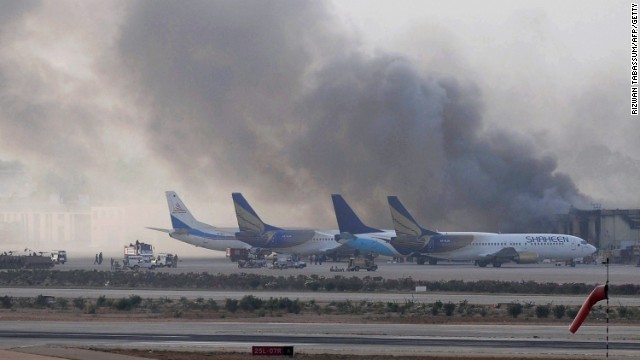 It was amazing and to see victory speeches by few govt officials ...when...
19 ASF, Police & Rangers individuals killed, scores injured, valuable property damaged, tremors of terror felt across the country, loss of millions of Ruppees, possibility of discontinuation of international operations at Kci airport and incredibly still (by mid-day Monday) firing can be heard at Kci Airport. They accomplished their mission. Victory speech may come from their side.
Read the letter place opposite. It shall give you a fair idea of how well crafted was the whole affair. Validation of the authenticity of this letter is beyond the capacity of scribe as it was copy pasted from the status of a friend at facebook. However, it is not really difficult to ascertain from the language of the letter that such tenacity can only be attributed to TTP.
Our achievement is that we killed 10 terrorists who otherwise came to DIE. secondly, DNA test will be taken of all Terrorist...What a gang of losers who run the affairs of this country.
Few Laspses that need to be considered:
1.All security agencies who were responsible to provide advanve information on terrorists' planning stage of operation, miserably failed. Everyone in chain particularly those responsible for airport area to be held accountable.
2.ASF which is solely responsible for airport security must be taken to task.
3.Police thana of airport is equally responsible. Because terrorist became security lapse of ASF when they entered airport premises. Before that it was police who had to prevent it from happening.
4. Provincial Govt was too busy visiting dharnas of MQM.They are also accountable for this lapse. 5.Finally sir Interior Minister it was your primary responsibility to prevent such thing from happening.
Unless all these culprits are taken to task... Nothing will change. These people are responsible for loss of so many precious human lives. There has to be an end to this circus. It about time people responsible for such lapses up and down the ladder must feel the heat.
Still someone wants to celebrate victory and raise solgans...Go on keep fooling yourself and 200 million people